That India needed a 17-year-old rising talent in Sachin Tendulkar to bail them out of a precarious situation, and save a Test match, highlighted the fragility of the side on their overseas tours. Not only did Sachin Tendulkar, still underage for drinking his own Man of the Match champagne bottle, bailed the side out, but also held the fort to secure a draw with his maiden international century in the 1990 Old Trafford Test versus England.
Into his first year of Test cricket, the Mumbai batsman was finding his feet in the international arena. He had shown his ability with three tough half-centuries before the Old Trafford Test, where he took his first steps to greatness.
Mohammad Azharuddin's team had lost the first Test, at Lord's by 247 runs to Graham Gooch's triple hundred, and a loss in the second would have meant another overseas series loss in the 3-match series; it would have happened, but for Sachin Tendulkar's doggedness.
On a quick and bouncy pitch, the visitors were set an improbable target of 408 runs on Day 5 – so only two results were possible – and they lost openers Navjot Sidhu and Ravi Shastri for 35 runs. After a partnership, both Sanjay Manjrekar and Dilip Vengsarkar departed. At number 6, in walked Sachin Tendulkar, who had previously made a valiant 68 in the first innings to support Azharuddin's century.
Tendulkar saw Azharuddin and Kapil Dev fell from the other end, with the score at 183/6, and India stared another inevitable away loss. Also, Tendulkar's innings as well could have been cut short had spinner Eddie Hemmings held onto a return catch. With more than two hours of the game still left, Manoj Prabhakar joined the young batsman in the middle.
With Gooch putting several men near the batters, in a bid to dismiss India soon, Sachin Tendulkar started to score freely in the big gaps available. The right-hander displayed his range on both sides of the wickets; he craftily stroked drives off the backfoot off length deliveries and pounced on anything full and short. He punched with impeccable timing, mostly while rising up, and flailed his willow hardly at the loose balls.
With three boundaries in one of the overs of pacer Chris Lewis, he hit three fours to bring up his fifty.
Luck, too, on that day, was with the Indians: As Tendulkar closed in on his maiden Test century, Gooch dropped a catch of Prabhakar at second slip; on one of the short deliveries Tendulkar had ducked under, his bat remained above his head and the ball took the edge of it, but thankfully rolled on the ground to fine leg, and not into the hands of any fielder.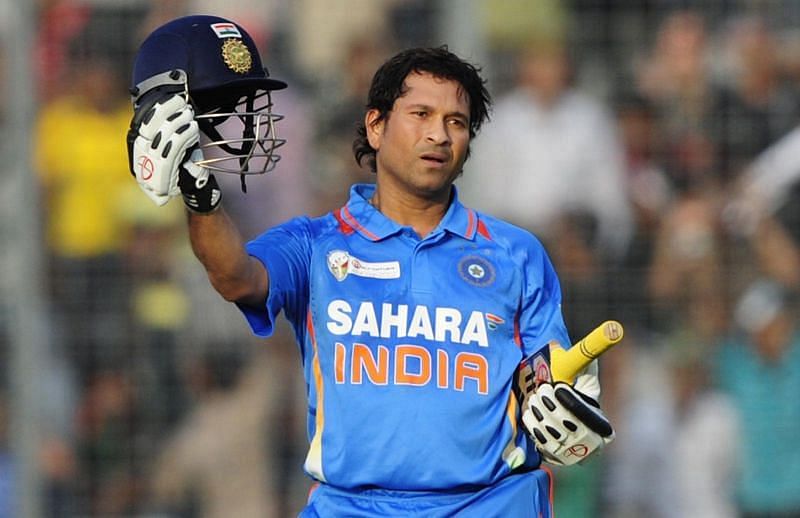 Soon, fittingly, he brought up his hundred with a drive off the back foot. At 17 years and 112 days, he became the second-youngest, after Mushtaq Mohammad, to record a Test ton.
With a 160-run stand for the 7th wicket, Sachin Tendulkar and Manoj Prabhakar saved the game for India. Tendulkar received a bottle of champagne as an award for the Player-Of-The-Match, but neither he could open it nor drink it – he was just 17 then. That teenager would go on to become the 'God of Cricket' who would record 100 hundreds in international cricket.
Also Read: Once You See Your Name On The Honours Board You Feel A Sense Of Achievement And Pride, States KL Rahul